Fortelock Tiles: The Ideal Floor for Your Garage
I'm sure you've wondered what floor to choose for your garage. This is an important decision, because the right choice can have a major impact not only on the practicality and functionality of the space, but also on the aesthetic impression. In this respect, we would like to introduce you to one of the best options on the market – Fortelock PVC tiles.

Fortelock is a high-quality and proven brand of PVC tiles, which boasts a long service life, resistance to mechanical stress and easy maintenance. This flooring is the ideal choice for garages, workshops or storage areas, simply wherever a strong and durable floor is needed.
Easy Installation without Gluing
One of the main reasons to choose Fortelock PVC tiles for your garage is its ease of installation. The tiles are designed to be easily put together using a "lock", which allows for quick and seamless installation of the floor without the need for gluing or the use of additional materials. In addition, this system makes it easy to replace damaged tiles without having to dismantle the entire floor. Thus, even a layman can handle the installation.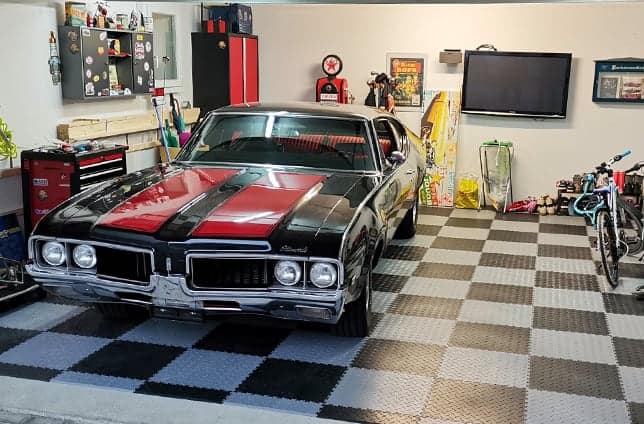 Always install the tiles on a flat and hard surface and allow the tiles to adjust thoroughly for at least 48 hours before the installation. Remember to keep the recommended expansion gap of 10 mm from any fixed point! (shelf, wall)
High Mechanical and Chemical Resistance
Another advantage of Fortelock PVC tiles is its resistance to moisture and industrial chemicals. So if you work with oils, lubricants or other chemicals in your garage, you don't have to worry about damaging the floor. The tiles can also withstand the load of heavy vehicles or machinery, which is particularly important in a garage environment. The compressive strength is 520 kg/cm2!
Fortelock PVC tiles are also very resistant to mechanical damage, such as impacts, falling heavy objects or other external influences. The tiles are also made of high quality material with high strength and durability.
Easy Maintenance and Disassembly
When it comes to maintenance, Fortelock PVC tiles are very easy to maintain. Just sweep or vacuum regularly and occasionally wash the floor using a rag or mop with water and detergent. This keeps the pavement clean and safe for your daily activities. Disassembly or replacement of some tiles is not a problem thanks to the lock system.
Choice of Colours
Aesthetically, Fortelock PVC tiles also keep up with other options on the market. It offers a wide range of colours and patterns that everyone can adapt to their taste and style of space. In addition, the surface finish of the pavement has anti-slip properties that increase safety when walking or handling vehicles.
Insulation Function for More Comfortable Work
Fortelock PVC tiles provide an insulating layer between the substrate and the surface, which makes working on the floor more comfortable at lower temperatures.
Ramps for Easier Access to the Garage
Fortelock also offers ramps that make it easier to enter the garage. Our tip: the ramps should be glued together with the first row of tiles for better stability.
Easy Purchase and Shipping
Use the online configurator for easy floor design and a clear final price calculator. We'll deliver the tiles on a pallet to your garage so you don't have to worry about transporting them.
Cleaning
Regular cleaning and maintenance is of great importance for all Fortelock floor coverings, both from the point of view of appearance and hygiene, but also to extend their lifetimes. Fortelock flooring can be cleaned by simply mopping with water and common detergent. We recommend the use of Dr. Schutz products for cleaning and maintenance of floors. They are based on many years of experience and reflect cleaning trends.
Suitable Products for Your Garage
Fortelock on YOUTUBE
Follow the Fortelock YouTube channel where we regularly add new content. You may be interested in: