Fortelock PVC Flooring for Fitness Centres and Gyms
Looking for the perfect flooring solution for your fitness centre or gym? Fortelock PVC tiles are a great choice that will offer you high durability, easy installation, a hygienic environment and aesthetic appeal at an affordable price. Plus, thanks to the pleasant material, you'll enjoy a more comfortable workout on the floor.
Advantages of Fortelock PVC flooring for fitness centres and gyms:
Resistance to falling dumbbells and the stress of exercise machines.
Fortelock PVC tiles are made of high-quality material that is resistant to impact and long-term stress. This guarantees a long life of the flooring even with intensive use in fitness centres and gyms.
The floors in fitness centres or gyms are often subjected to significant loads caused by dumbbells, heavy racks and other equipment such as treadmills, power towers or treadmills. If a dumbbell is dropped on a ceramic or concrete tile floor, it can cause damage and subsequent cracks. Concrete floors can start to crumble under the strain, which is not only aesthetically unsatisfactory but also causes dust. If you're planning to open a fitness centre or gym in a space with an existing floor and you're not interested in investing in a refurbishment, an effective and quick solution is to lay a second layer of flooring to protect the original surface. Fortelock flooring is the ideal solution for covering an older floor that you are no longer happy with. In one day, you can renew the look of your fitness centre or gym without the need for tools or hiring craftsmen.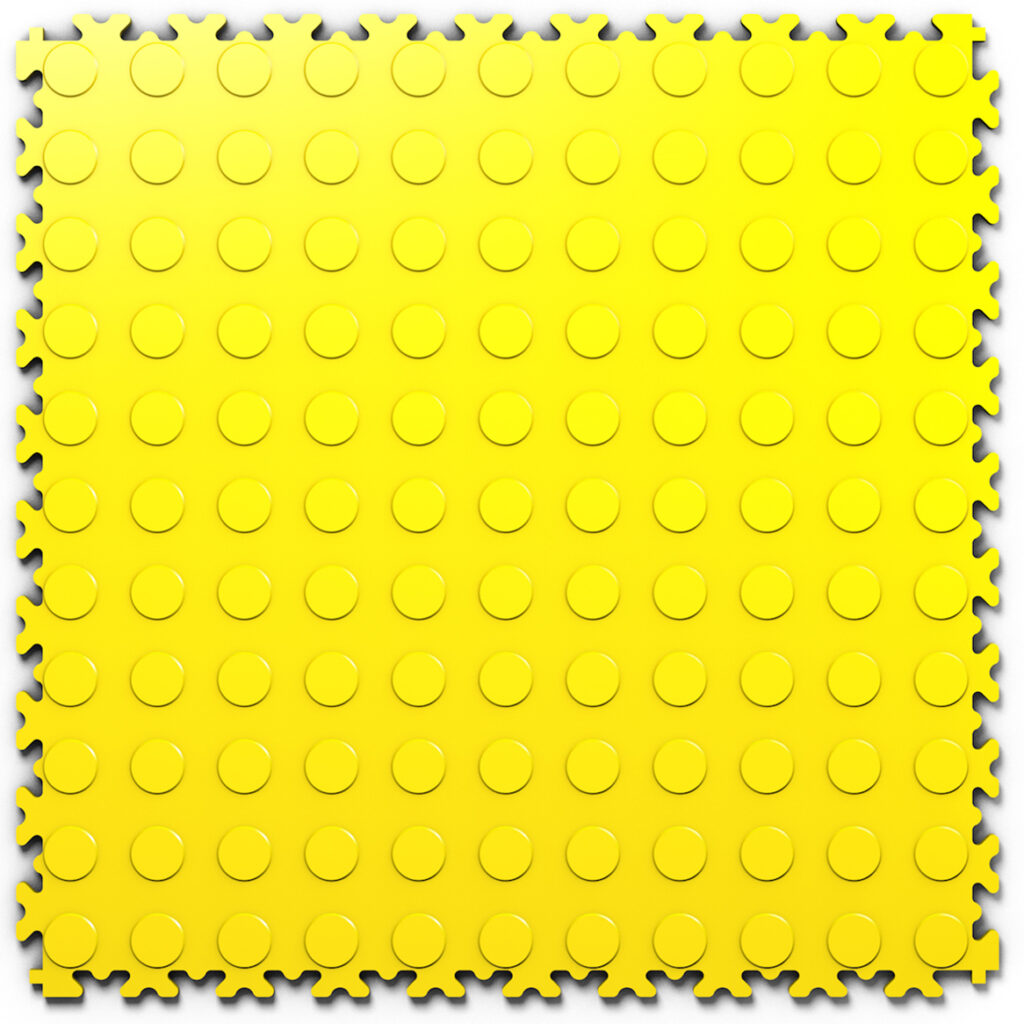 For exercises with dumbbells and heavy machines we recommend: Fortelock Industry
Easy Installation without the Need to Restrict Operation
The tiles are easy to put together using a "puzzle" lock, so you can install quickly and without gluing. This means you can carry out the installation even during night or weekend hours without having to restrict the operation of the fitness centre.
Hygienic Environment Thanks to Easy Disinfection
PVC material is well disinfected and maintains a hygienic environment, which is particularly important in areas where sweat and bacteria come into contact. The floor is also easy to maintain and can be easily cleaned. We recommend the use of Dr. Schutz products for cleaning and maintenance of floors.
Pleasant Material for Exercise on the Floor
The tiles are pleasant to the touch and do not get cold, which makes floor exercises such as yoga or pilates more enjoyable. For home exercises we recommend: Fortelock Industry, Fortelock XL or the new Fortelock Business
Removable Tiles for New Spaces
If you decide to move your fitness centre or gym to a new space, you can simply dismantle the tiles and reuse them.
Organising space with colour
Fortelock tiles offer a wide range of colours that allow you to easily organise your exercise space according to individual activities or training zones.
Your Fitness Studio Logo on Tiles
For even better promotion of your fitness centre or gym, you can have your logo printed on the selected tiles. We print the tiles using the latest printing technology, which guarantees colour quality and unlimited possibilities. You can choose from the standard prints we offer (GRANIT printing) or you can come up with your own design (CUSTOM printing).

Purchase and Transport of Fortelock PVC Flooring
For easy flooring purchasing, use the online configurator to design a custom floor for your fitness centre or gym. For individual offers for larger spaces, please contact the customer service. Get a free sample or borrow a section of flooring to try before you buy.
Choose Fortelock PVC tiles for your fitness centre or gym and enjoy a durable and aesthetically appealing floor that you can easily install yourself.
Suitable products for specific applications:
Advantages of Fortelock flooring compared to other tiles
Vibration damping
Tread and impact of objects damping
Thermal insulation
Easy to wipe and clean
The damaged part can be easily replaced
Fortelock tiles can be printed with lettering or logos
Installation can be carried out without flooring engineers
The system allows the combination of patterns and colours
Health-safe
Slip-resistant
Fortelock on YOUTUBE
Follow the Fortelock YouTube channel where we regularly add new content. You may be interested in: